ABOUT THE PROJECT
The French Embassy is collaborating with Pimclick, a leading marketing and communication agency, to promote the French language through a creative video campaign. The goal of this project is to demonstrate the versatility and utility of the French language in a variety of contexts and to show how learning French can bring success in different aspects of life.

Pimstarter has been tasked with crafting a comprehensive video strategy that will effectively reach the target audience and deliver the desired message. This includes identifying the most appropriate platforms and channels for the campaign, developing a compelling narrative and visual style, and carefully selecting the right cast and crew to bring the vision to life.

To ensure the campaign reaches its objectives, Pimstarter will use advanced targeting techniques to reach the right audience at the right time and place. This will include segmenting the audience based on demographics, interests, and behaviors to ensure that the message resonates with the right people.

Pimstarter's team of experts will also work closely with the French Embassy to ensure that the messaging is aligned with their goals and that the campaign aligns with their brand and reputation.

Overall, this collaboration between the French Embassy and Pimstarter is an exciting opportunity to promote the French language in a creative and engaging way and to reach a wide audience of potential learners. With Pimstarter's expertise in video strategy and audience targeting, the campaign is poised to achieve its objectives and help to promote the French language to a new generation.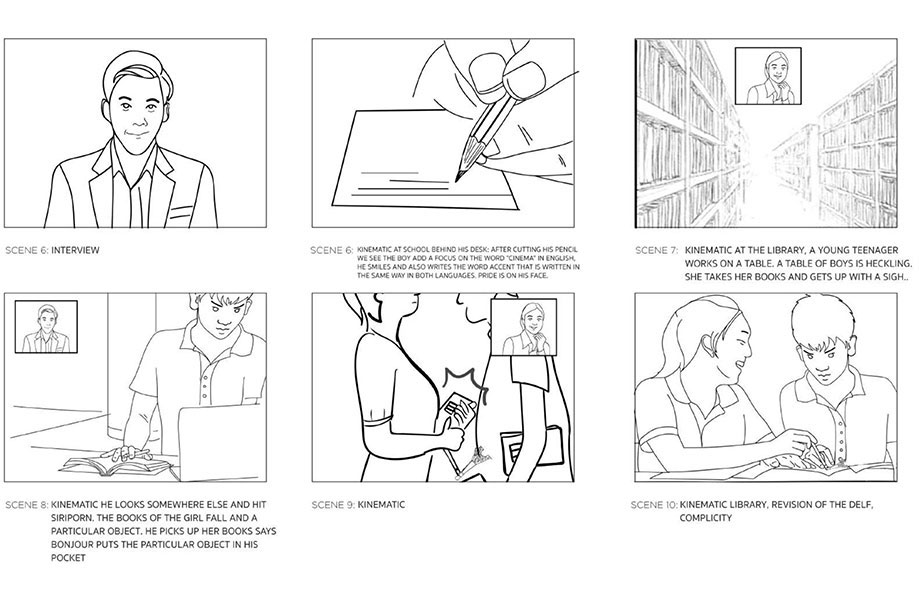 A storyboard behind the Story
Pimclick creates a storyboard, a sketched presentation of the story in your video which helps us to plan each shot in your video and create a wireframe of everything we.will intend to shoot. Our storyboard will make your audience, followers and clients emotionally attached.
A short engaging Movie to promote French language in Thailand.
Arc you looking for a powerful way lo communicate the value of your brand, product or service? Pimclick's teams are passionate about telling your story in the most effective and emotionally engaging way. Pirnclick helps to attract the right audience to your business and drive the lead generation.
The digital age presents unlimited opportunities for you to communicate directly with your customers. Get Pimclick on board to transform brand and business directiveness into compelling film work.
From a solid research to the creative approach, from script to storyboard, from video production to post production – Pimclick is on site with its expertise and dedicated team for digital and public diplomacy. We provide the best crew and production teams for any film & TV video production and according to the budget: Be it video, aerial drone videos, documentaries, TV commercials, feature films or 360 degree VR videos we can arrange everything related to your shoot including best price equipment rentals and all crew needs plus directors, producers, film crew, lighting team and craft services. We also provide location scouting, casting management and creative services for video and photo shoots.